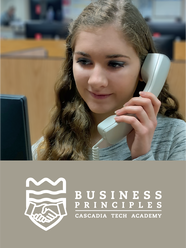 Program Description:

Whether you are interested in working in an office as an administrative assistant or owning your own office as an entrepreneur, Business Principles will help you reach your goals. General business and management opportunities are abundant. In the State of Washington, trained personnel are in high demand. As a trained graduate in this area, students' skills will enable them to find an exciting career in the field of business.

Upon completion of this program, individuals will have knowledge of business operations, finance, marketing, client relations and professionalism. Management, leadership and entrepreneurial skills, together with basic knowledge of business operations, will prepare students for a variety of business positions. Career research and exploration of post-secondary education is also a component of this program.

Students enrolling in the Business Principles program will learn:
Professionalism

Management

Business operations

Client relations

Management skills

Finance

Leadership development

Teamwork

Soft skills

Effective business communications

Time management

Project management

Safety issues

Employment preparation – Career portfolio/interviewing techniques

Program Benefits:
Three high school credits

Possible language arts credit in some districts. Check out your district's offerings by going to our web site's programs page and clicking on "Credit Equivalency".

Competency Certificates-MS Word, MS Excel, MS PowerPoint, Outlook, Precision Exams

Internship opportunity (6 weeks)

Entry level job skills

Preparation for the next level of education/training

Scholarship opportunities

Successful completion of the program, with a grade of "B" or higher, may result in college credits

Career portfolio

Industry Certifications Available:
Potential Microsoft Office Specialist (MOS) Certification in Word, PowerPoint, Excel and Outlook.

Precision Exam certificate in 21st Century Skills among a variety of other program specific subjects.

Prerequisites:
Business Principles
Reading and writing proficiency at 10th grade level

Must know proper finger placement on keyboard

Entry-level keyboarding or computer class with "C" or better

Excellent high school attendance record

Must provide own transportation to internship site

Must provide own health insurance to participate in internship

Business Principles II
Must pass 1st year program with a B grade or better to qualify for 2nd year; limited space available

Excellent high school attendance record

Must provide own transportation to training site

Must provide own health insurance to participate in internship

Curriculum based on participants' interests, i.e., Accounting, Entrepreneurship, etc.

Recommendations:
Ability to pass a background check (dependent on intern site choice)

Basic knowledge of keyboarding and Microsoft applications recommended

Strong skills in reading, writing, and English composition highly recommended

Note: Upon acceptance into the program, student and parent/guardian are required to participate in the orientation at Cascadia Technical Academy.

Lab Time/Theory Time:
Approximately 50-60 percent of class time will be devoted to lab and 40-50 percent to class instruction.

Homework:
Homework is dependent on student's study choice. Lab time is available for assignments, most of which use computer.

Career Opportunities:
Veterinarian front office staff, vet tech

Banks, credit unions

Legal firms, paralegals, legal assistants, legal secretaries

Medical insurance office or medical labs

Chiropractor and optometrist offices

Pharmacies or pharmaceutical offices, pharmacy tech

Real estate and insurance offices

Court, police and probation departments-support personnel

Corporations/general office

Credit Equivalencies and College Credit:
Click here to learn more about credit equivalencies.
Click here to learn more about the articulation agreements and college credits available for each program.

Program Supply List / Student Costs:
CTA programs require that uniforms, supplies, and other program specific related items (such as immunizations, food service card, etc.) be purchased or completed prior to the first day of school. To access the list of this program's uniform, supply and other program-related costs please click here.

Note: It is recommended that all students attending Cascadia Technical Academy have medical insurance. Family medical insurance or student accident insurance is required for students participating in internships or clinicals. Student accident insurance is available through the sending high school.

If you have concerns regarding program expenses, please see Melissa Downing. There are funds available for qualifying students. Ms. Downing can be reached at 360-604-1062 or at Melissa.Downing@evergreenps.org.
Ms. Downing is available during the school year when school is in session.