INFORMATION TECHNOLOGY SYSTEMS, SERVICE & SECURITY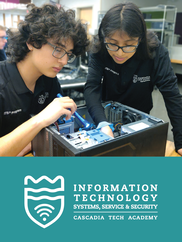 Program Description:

Information Technology Systems, Service & Security is a two-year program. The ITS3 program provides core skills and knowledge necessary for Computing Systems, Network Administration and IT Security careers. IT professionals are in demand and the outlook for continued technology job growth is strong.
The first year primary focus consists of preparing students to be Computer User Support Professionals by following the CompTIA A+ curriculum. CompTIA A+ is the industry standard for launching IT careers into today's digital world. Students learn skills to be successful in the IT career field working with mobile devices, desktop computers, printers, networks, operating systems, and setting securing small/home offices for remote computing.
The second year's primary focus is learning how to design and build secure networks, including servers, workstations, printers, wireless devices, securing networks and testing networks for security flaws. In addition, students run the Cascadia Tech Student Help Desk, supporting all Cascadia Tech programs to help them use technology on campus successfully.
Professionalism is an important aspect of the Information Technology curriculum which focuses on teamwork, communication, and job readiness. Career research and exploration of post-secondary education is also a component of this program.
Students may have the opportunity to participate in industry-driven internships and/or job shadows.
The expected program outcomes for ITS3 students include but are not limited to:
Preparation for the CompTIA A+ Certification

CompTIA A+ certified professionals are proven problem solvers

Configure and deploy desktops, laptops, monitors, printers, servers, IoT device hardware and other computer peripherals.

Prepare students to diagnose and resolve general hardware/software issues on desktops, laptops, monitors, printers and other computer peripherals.

Configure device operating systems, including Windows, Mac, Linux, Server Operating Systems, Chrome OS, Android and iOS.

Demonstrate baseline security skills for IT support professionals

Troubleshoot and problem solve core service and support challenges while applying best practices for documentation.

Safety issues as they relate to information technology.

Implement basic data backup and recovery methods and apply data storage and management best practices.

Securing data to ensure only the people who are authorized to have access.

Configuring wide area network (WAN) or local area network (LAN) routers or related equipment.

Configuring security settings and protecting remote access and devices.

Being proficient in identifying threats and mounting an effective defense
Program Benefits:
Three high school credits

May qualify for 1.0 Program of Study Math and .5 Lab Science elective academic credit equivalencies. See your sending school counselor for eligibility.

Course Competency Certificate

Industry level job skills

Professionalism

Client Relations

Successful completion of the program, with a grade of "B" or higher, you may earn up to 21 college credits.
Industry Certifications Available:
Prerequisites:
Information Technology Systems, Service, and Support - Year 1
Reading proficiency at 10th grade level

Must have successfully completed Algebra 1 or Integrated Math 1

Excellent high school attendance record
Information Technology Systems, Service, and Support – Year 2
Must pass 1st year program with a B grade or better to qualify for 2nd year; limited space available

Must provide own health insurance to participate in internships

Must provide own transportation to internship site
Recommendations:
Basic knowledge of keyboarding, computers, mobile devices, Microsoft Office applications and the use of Google Apps are recommended. We are going to use Canvas as our online platform, therefore, being able to access online learning platforms and experience is a bonus.
Note: Upon acceptance into the program, students and parent/guardian are required to participate in the orientation at Cascadia Technical Academy.
Career Opportunities:
Technical Support Specialist

Help Desk Technician

Desktop Support Administrator

System/Server Support Specialist

Network Administrator

Network Support Specialist

IT Security Specialist

Cyber Security Specialist
Credit Equivalencies and College Credit:
Click here to learn more about credit equivalencies.
Click here to learn more about the articulation agreements and college credits available for each program.
Program Supply List /Student Costs:
CTA programs require that uniforms, supplies, and other program specific related items be purchased prior to the first day of school. A list for this program's uniform, supply and other program related costs is available on this program's webpage: ITS3 Program Supply List and Student Costs
Note: It is recommended that all students attending Cascadia Technical Academy have medical insurance. Family medical insurance or student accident insurance is required for students participating in internships or clinicals. Student accident insurance is available through the sending high school.
If you have concerns regarding these expenses, please contact Melissa Downing in the main office. There are funds available for qualifying students. Ms. Downing can be reached at 360-604-1062 or at Melissa.Downing@evergreenps.org. Ms. Downing is available during the school year when school is in session.
ONLINE RESOURCES:
www.testout.com and www.netacad.com are our online learning material
Free resources for learning about technology: